A Death Korps of Krieg Grenadier Chest Piece. Warhammer 40000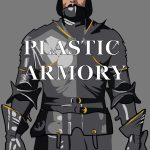 Нагрудник гренадера Корпуса Смерти Крига. Вархаммер 40000
Предварительное бронирование: изготовление с 7 до 21 дня.
Броня из АБС-пластика толщиной 4 мм (1/4 дюйма).
Делаем это по вашим размерам: широкая грудь, рост, широкая голова (примерно).
У нас есть три профиля покраски (цвет можно выбрать):
1. Черный – базовый черный или без покраски
2. Серебристый – с повреждениями (брашированный металл)
3. Платиновый – покраска в ваш цвет/покраска по вашему желанию
Sold: 0
Report Abuse
Комод из АБС-пластика 4 мм (1/4 дюйма), бронзовые или никелевые заклепки, 100% натуральная кожа. Кожа разрезается на станке лазерной резкой.
Все наши изделия производятся вручную и контролируются вручную.
Срок доставки может быть увеличен в связи с национальными праздниками, надеемся на ваше понимание.
После отправки вы получите ТРЕК-НОМЕР и самостоятельно отследите посылку.
Пожалуйста, будьте осторожны, все расходы по доставке не возвращаются.
Покупая наш товар, вы соглашаетесь, что его нельзя копировать и воспроизводить любыми способами для дальнейшей продажи.
С пожеланиями и спасибо за посещение!
Чтобы увидеть наши рабочие моменты и первыми узнать об инновациях, зайдите на https://www.instagram.com/ Plasticarmory/
Ready to ship in 2-3 weeks from Russia
---
Shipping Policy
---
we transfer the parcels to the post office and it goes to the buyer. We are responsible for moving the goods across Russia and if it is lost, we will send you a new version of the goods. If the parcel is lost outside the country of departure, we are not responsible for the loss of the goods and you need to file a statement about the loss in your country.
Specification:
A Death Korps of Krieg Grenadier Chest Piece. Warhammer 40000
Dimensions
| | |
| --- | --- |
| Weight | 1.5 kg |
| Dimensions | 60 × 40 × 10 cm |
Vendor Information
Store Name:

PlasticArmory

Vendor:

PlasticArmory
No ratings found yet!
Check with your seller on his store page or in the product description for the rules for returning and canceling an order.

A Death Korps of Krieg Grenadier Chest Piece. Warhammer 40000