Printable coloring page, Adult coloring book, Bird coloring page
Bird coloring page, Printable сoloring page, Adult coloring book, Kids coloring page, Digital coloring pages, Digital coloring books, KnitLand
Sold: 0
Report Abuse
This simple, easy coloring page is hand-drawn. It is based on traditional Russian painting (Permogorsk painting).
In this painting, the colors favorite by the masters are used: red, green, yellow. All elements are outlined in black.
One of the main images in this slavic painting was the Sirin bird. Who is this Sirin bird? According to legend, this bird of happiness, a bird-amulet, guarded the rejuvenating apples in the Garden of Eden. And it was portrayed with the face of a girl.
After purchase, you will receive files for download – a black and white pattern for A4 printing (jpg) and a color picture (a sample how to paint).
These files are a work of authorship. Designed exclusively for your personal use. It is forbidden to transmit, forward to other people, publish, any other distribution. Please don't sell or redistribute ANY copies of this pattern VIA EMAIL OR PRINTED or in any other form.
Feel free to message me with any questions! Let me know if something is not clear to you, I will try to help you.  Please contact me if you have any problems with your order.
Vendor Information
Store Name:

KnitLand

Vendor:

KnitLand
No ratings found yet!
Check with your seller on his store page or in the product description for the rules for returning and canceling an order.
You may also like…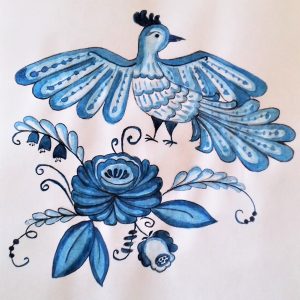 Printable coloring page, Adult coloring book, Bird coloring page