Glass Wave Glass Painting Suncatcher
Glass Wave Glass Painting
Sold: 0
Report Abuse
Glass is a painting in which I create a world of sea or nature with every brush stroke. The light coming through the colors brings this world to life. This wonderful hand-painted glass piece can also bring your home interior to life.
This glass wave measures
– 5.5 " x  9″ (14cm x 23cm)
It's perfect for any room, but looks especially good in the living room or bedroom. They look great sitting on a windowsill or shelf and are even more spectacular at night with a few tea light candles .
This is the perfect gift for friends and family who like something that is not common, but I just warn you: you may love it so much that you want to keep it to yourself.
*** Please note: Due to the handmade nature of this work, the piece you receive may vary slightly from that pictured. However it will be just as marvellous! ***
By purchasing this item you confirm that you understand and accept this item's description and the shop's policies.
Thank you for stopping by my store and seeing my handmade items.
1. By placing an order in the store, you accept our shipping/return policy. 
2.  Please read the return policy carefully before submitting any claim. Make sure that the item is eligible for a claim to avoid dissatisfaction.
3. To initiate a return or ask any other question, please contact customer service 7 calendar days of delivery of the package.
4. Unused, unopened items may be returned within 7 calendar days of delivery, terms and conditions apply.
If an item is damaged in transit, please file a claim and have it properly inspected upon request by a customer service representative.  Claims submitted after 7 calendar days will not be accepted.
5.  The store does not provide a return label and we do not pay for return shipping.  Please keep the return receipt and email pictures of the package so we can track it. Returns for merchandise damaged in transit are at the seller's expense.
6. The store does not accept returns, exchanges or refunds for the following items:
Custom made items.
Parcels that are rejected or refused upon delivery, abandoned, or parcels returned outside the established return process will not be accepted as returns.
7. All customs duties are the responsibility of the recipient. Customs fees and duties are collected by the border authorities in your country. They are collected and retained by them and are non-refundable. We do not wish any inconvenience to our buyers.
8. If a package is undeliverable or lost, please file a claim within 60 calendar days of the date of shipment. Claims submitted after that time will not be accepted.   
If you do not receive your package, but the courier has marked it as delivered, it will not be considered lost. Please file a claim with the courier.
To avoid delivery problems, please make sure you provide a correct and complete address when placing your order. Items returned due to an incomplete address are not eligible for a refund or store credit.
9. Cancellations/modifications of your order are accepted within 8 hours if the order has not been shipped. Once your order has been shipped from our warehouse and assigned a tracking number, it becomes almost impossible to cancel/receive your package.
10. The store offers free shipping  with order processing within 2-3 business days. Once your order is shipped, the estimated delivery time is 15 to 30 business days depending on your country or region.
Paintings to order are made individually from 15 to 20 calendar days.
It is very important to me that the quality of both the product and the packaging is impeccable. But considering that shipping is handled by logistics companies, I can't guarantee you absolutely undamaged packaging. Therefore any returns, refunds or packaging claims are not accepted. However, if an item is received in a damaged condition, please report it so that we can rectify the situation.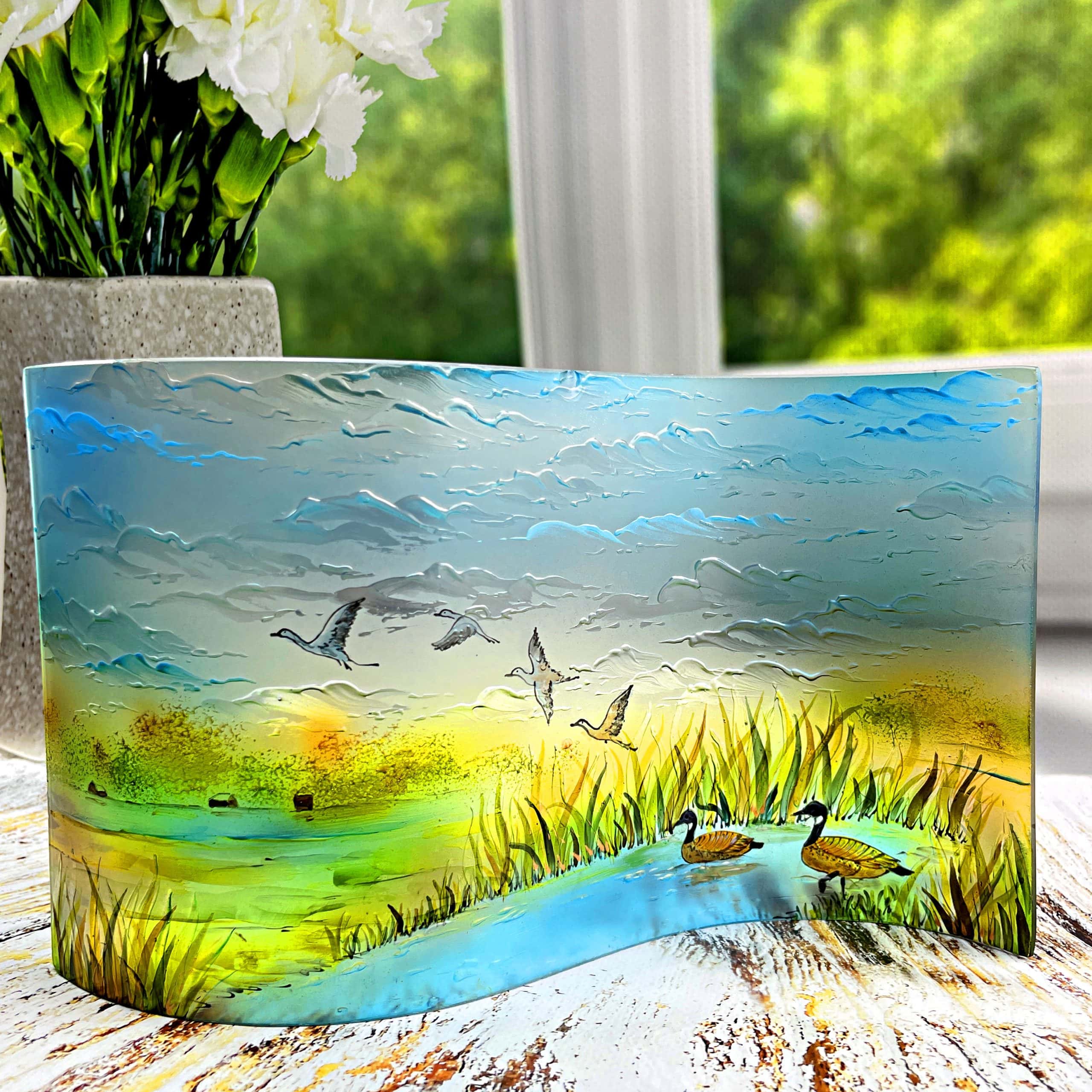 Glass Wave Glass Painting Suncatcher