Newborn photo prop wolf set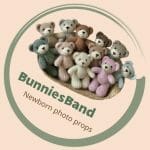 Newborn photo prop wolf set
Sold: 0
Report Abuse
Newborn photo prop fox set
Knitted wolf and matched bonnet
So fuzzy soft wolf just waiting to baby hands!
Knitted bonnet with ears is newborn size.
Toy and bonnet is hand knitted with my own pattern.
✨✨✨✨✨✨✨
I am use high quality Alpaca yarn Italian production
✨✨✨✨✨✨✨
This set is perfect for a newborn photosession!
The wolf and bonnet is really so cute and photogenic 🙂
✨✨✨✨✨✨✨
Color is  Grey
Size wolf is 12 cm (4 inches)
Eyes and nose toy are embroidered.
Thank you for visiting, Ekaterina
Shipping Countries: Belgium, United Kingdom (UK), Germany, Denmark, Spain, Ireland, Iceland, Italy, Lithuania, Liechtenstein, Austria, Luxembourg, Netherlands, Norway, Portugal, Turkey, France, Switzerland, Sweden, Canada, Mexico, United States (US), Argentina, Brazil, Colombia, Australia, New Zealand, India, Indonesia, Israel, Japan, Lebanon, Saudi Arabia, Singapore, South Korea, Sri Lanka, Thailand, United Arab Emirates, Vietnam, Egypt
---
Ready to ship in 2-3 weeks from Russia
---
Shipping Policy
---
Estimate delivery time
USA 14-21 days
Canada 20-30 days
Japan 14-20 days
Vendor Information
Store Name:

Bunniesband

Vendor:

Bunniesband
No ratings found yet!
Check with your seller on his store page or in the product description for the rules for returning and canceling an order.

Newborn photo prop wolf set