The forgotten arts and crafts. Ebook rural crafts. Rural skills
The forgotten arts and crafts. Ebook rural crafts. Traditional craftspeople. Rural skills. Over 1 700 illustrations. Village handbook. Instant Digital Download. A fascinating journey through the world of traditional artisans – from a blacksmith to a beekeeper and a housewife, a lot of rural skills.
Added to wishlist
Removed from wishlist
0
Report Abuse
Categories: Garden Decoration, Gardening & Outdoor, Home & Living, Other Garden Decoration
Tags: basketry, bee-keeping, blacksmithing, boatbuilding, boot and shoe making, cheese making, cleaning, decorating, eBook in PDF format, Ebook rural crafts, Instant Digital Download, Rural skills, The forgotten arts and crafts, Traditional craftspeople, Village handbook
This file is for an INSTANT DOWNLOAD.
DESCRIPTION OF THE EBOOK.
The Forgotten Arts & Crafts brings together in a single absorbing volume two best-selling classics The Forgotten Arts and Forgotten Household Crafts written by the acknowledged "Father of Self-sufficiency" John Seymour. Taking the reader on an evocative journey through the worlds of traditional craftspeople – from blacksmith to bee-keeper wainwright to housewife – Seymour celebrates their honest skills many of which have disappeared beneath the tread of progress. Reviving forgotten skills With characteristic passion Seymour demonstrates that these country arts and household crafts need never be forgotten. From woodland and buiding crafts to the tasks of the kitchen and laundry he explores every aspect of traditional life. Materials and workshop tools are usefully annotated and techniques evoked in engaging words and pictures. Over 1 700 detailed illustrations and photographs bring to life each craft and skill. Nostalgia for bygone days In an affectionate and nostalgic account John Seymour recalls a lifetime of encounters with working craftspeople in different parts of the world and describes the trades and household activities he saw practised in the countryside of his youth. With a crusading vigour he commends the joys of noble toil and makes a compelling plea for "virtuous craftsmanship" which may without vigilance vanish forever.
YOU WILL RECEIVE
Digital file, PDF file.
380 high-Quality pages.
More than 1700 illustrations.
Master class from the e-book.
A good gift for those who are interested in rural life!!!!
Explore!!!
NOTE:
This is a DIGITAL DOWNLOAD item – You will not receive a physical item.
The files will sent to you as soon as the payment is confirmed. You will receive a PDF file with a link to download the digital book.
Take a look and subscribe to our store and you will see new ebooks, emagazines and more. It will be very interesting for us to read your reviews and comments, it will help us to improve the store for you.
TERMS OF USE
These digital files may be used for any personal projects.
They may not be sold or distributed for free in their original format. You cannot sell this file as a digital file.
If you get a wrong file type or if there is a problem with the file please contact me.
Vendor Information
Store Name:

eBook

Vendor:

eBook
No ratings found yet!
Check with your seller on his store page or in the product description for the rules for returning and canceling an order.
You may also like…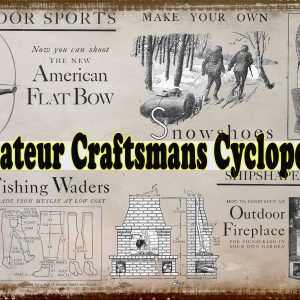 The forgotten arts and crafts. Ebook rural crafts. Rural skills